Organic Oregano Seasoned Olive Oil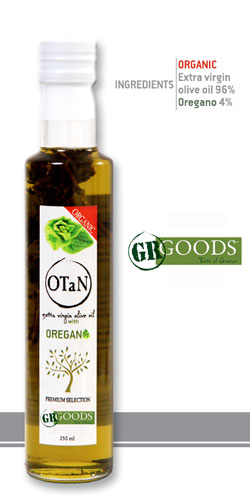 Our organic extra virgin olive oil with organic oregano infusion, allows you to experience the taste of the Mediterranean cuisine by just drizzling it on a slice of fresh bread, on salad and vegetables. Use it to marinade meat and fish or as an herbal note in vinaigrette.
Oregano is commonly found in most Greek mountains and in most Mediterranean countries. It is an herb widely used in Mediterranean cuisine. In addition to oregano's pleasant aroma and flavour, its strong antioxidants and anti-bacterial properties contributes to a healthy diet. Oregano also contains fiber, iron, manganese, vitamin E, iron, calcium, omega fatty acids.
Indulge your palate by using this organic infusion on baked potatoes or toasted bread.