Extra Virgin Olive Oil
In order to ensure that a premium quality product will reach our customers, GR Goods carefully monitors all stages of the production and distribution of the OTaN olive oil. It starts with the harvesting of the olives. The harvesting time and method as well as the immediate transportation to the olive oil mill are closely monitored. The extraction of the olive oil is achieved using only mechanical means, and cold press in order to preserve the oil's aroma, flavour, vitamins, antioxidants and overall quality. The storage of the olive oil is done in stainless steel reservoirs and the bottling and the packaging is performed using the strictest industry standards. Finally, the transportation and the retail of the products are monitored in order to ensure that the OTaN extra virgin olive oil you purchase is of the highest quality.
For more than five thousand years the olive tree has been cultivated in Crete and olives as well as olive oil has been used as a basic ingredient in the local cuisine. Since the Minoan civilisation olive oil has been a major export of Crete and was famous for its quality all over the Mediterranean and beyond.
Extra virgin olive oil is recognised as the highest quality oil when it comes to nutritive benefits. Recent research indicates its essential nutritive benefits to our health and lifespan, hence it is highly recommended to include it in our daily diet. Olive oil is rich in monounsaturated fats; contains vitamins, A, E, D, and K as well as Omega-3 and Omega-6 fatty acids.
A number of studies found that olive oil consumption benefits our health in a number of ways. The benefits include the lowering of the bad cholesterol and blood pressure, helping to decrease the risk of heart conditions. There are also evidence that by helping our body to have a proper metabolism and digestion it improves our overall wellbeing. Furthermore, it delays the aging process, due to its richness in antioxidants.
Cretan olive fruits are full of nutrition and of high quality; this is due to geographical position, morphology of terrain and favourable climate. This is why over 90% of the olive oil produced in Crete is extra virgin olive oil.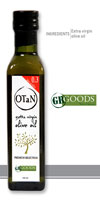 Packaging information for Maraska bottles
| Size | 250 ml | 500 ml |
| --- | --- | --- |
| Length [cm] | 30.50 | 24.30 |
| Width [cm] | 20 | 18.30 |
| Height [cm] | 22.10 | 27 |
| Bottles / Box | 24 | 12 |
| Box Weight [Kg] | 11.40 | 10.40 |
| Boxes / Layer | 16 | 19 |
| Layers | 6 | 5 |
| Boxes / Pallet | 96 | 95 |
| Weight / EURO Pallet | 1094.40 | 988 |
| Pallet Height [cm] | 148.6 | 151 |